OK, so the
Dallas Biz Journal has a short article on Irving's eagerness for the Orange DART line to open
, linking Las Colinas to downtown Dallas. Eventually, it will link the DART system to DFW airport. And why shouldn't they be excited? They've seen just about every city around them get linked up with something other than freeways, while they've sat on the to do list. It will be a great thing for Irving and the rest of DFW once the airport link is online. Except, this doozy caught my eye:
The 14-mile, $1.3 billion Orange Line is expected to generate at least $400 billion in transit-oriented development in Irving.
I know this is likely a typo. But I'd be more likely to believe $400 nillion than billion. After all the n is closer to the m than the b on the QWERTY keyboard. Or maybe it was just a lost in translation issue due to poor reception on what I'd have to presume was an AT&T served iPhone (not that I particularly liked sprint or my old phone pre-iPhone, but the sound quality WAS crystal clear). The journalist heard billion when whoever he was interviewing actually said million.
But let's have some fun shall we and pretend that it wasn't a typo? What exactly would $400 billion in new TOD development look like in Irving?
Well, it would be approximately 1000 new Bank of America buildings, the tallest skyscraper in downtown Dallas: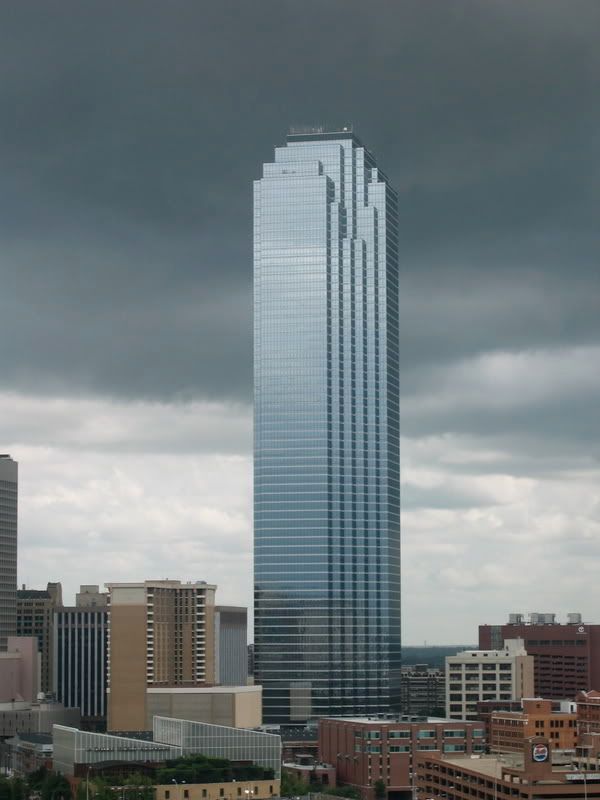 Or, if that is too old school for you and you're looking for some cutting edge LEED-worthy syle high-rises, let's plop 400 of the Time Warner Center buildings on Central Park in Manhattan. Minus the Central Park. And the Manhattan. But don't worry, the transit is there:
Too many of one type of building for you? OK, let's build new cities from scratch. And not just a few, but 10 new Songdo Business Districts:
That's a rendering of course. I'm assuming the architects presumed there might be people occupying the buildings or piloting those sailboats. Because it is an all-at-once city from scratch lacking the self-reinforcing feedback loops of organically grown cities, it looks more like this:
New Asian mega-cities from scratch. Times ten. In Irving.
I'm already hyper-sensitive to these big, round projected numbers. As I've said before, most of which are conjured out of thin air without fostering the market to actually support legitimate market-oriented development towards a real urbanism. The other key line in the article is that upon completion the DART orange line will take 90 minutes to reach DFW terminal A from West End station. 90 minutes.
As long as DART is not only not as convenient as driving, but potentially 3x more time consuming, the market will never shift to favor of transit-oriented development. Now I love transit-oriented development. Choice of transpo combined with the density aligned with intersections of networked movements is the way cities will survive and thrive.
We're trying to have our cake and eat it too. Unfortunately, that tips the balance in favor of auto-oriented transportation, which like transit and virtually all other forms of transportation, doesn't pay for itself. So instead, we end up paying a billion dollars for something while cutting the legs out from under it. I suppose zombie like real estate market is better than the alternative though. Not having transit at all and dying a slow death via
exsanguination
.